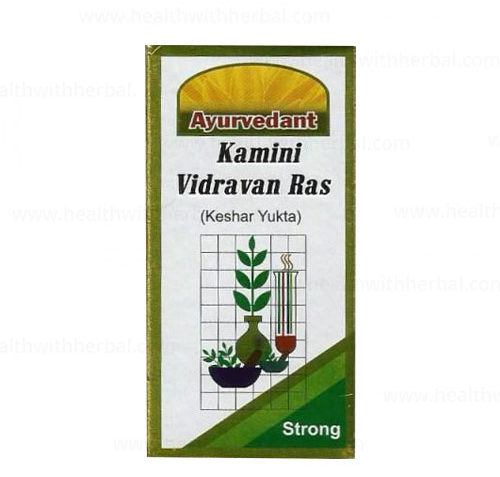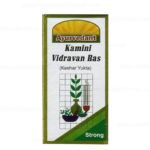 Ayurvedant Kamini Vidrawan Ras
---
$45.00
Product Description
MUST READ BEFORE PURCHASE :
In case of any custom procedure arise in purchaser's country, that will be taken care and borne by Buyer only.
How does Kamini Vidrawan Rasa act according to Ayurvedic principles?
Baidyanath Kamini balances Vata, where vata dosh is responsible for the problems pertaining to sukra dhathu (semen). Kamini vidravan ras ingredients have Vata hara (removal) properties which act on the central nervous system. They nourish all the dhathus and specifically act on the sukra dhathu which helps to relieve the related sexual problems. Kamini drug is strengthening, aphrodisiac, rich in antioxidants and stambana. The metallic / mineral ingredients used in preparation of kamini vidravan ras helps to enhance the properties of herbs used in it. Kamini tablets also acts as a stimulant and astringent. It helps to maintain vitality and stamina.
What are the benefits in taking Kamini Vidrawan Rasa?
Kamini pills are very effective common natural aphrodisiac.
Kamini medicine reduces stress thereby reducing anxiety level, which is a great barrier to perform a satisfying sexual act.
It is used to treat premature ejaculation and erectile dysfunction.
It helps to retain the sexual act for longer.
It increases the thickness, vitality of semen thus giving more strength.
Kamini tablets helps in fighting nocturnal emission, spermatorrhoea or involuntary loss of semen.
It helps in impotency, sexual weakness and sexual disorders.
It also improves energy level in the body and builds good physique.
Kamini pills also improves the size of the penis for a better sexual function.
Kamini vidravan ras also helps in curing male infertility.
Dosage
1 tablet after the breakfast and 1 tablet before sleeping with sugary milk.
Correct dosage is important to avoid side effects like vomiting, nausea, permanent dependency and addiction.