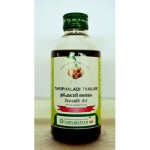 Vaidyaratnam Thriphaladi Thailam
---
$12.50
Product Description
Ayurvedic Thriphaladi Tailam by Vaidyaratnam 
Pack Size : 200 ml
Description:
Thriphaladi Thailam is an Ayurvedic oil. It is used in the treatment of headache, hair fall, grey hairs, etc. It is used for external application. This oil is based on Kerala Ayurveda practice.
Triphaladi Tailam uses:
It is used to treat split hairs, grey hairs. It improves hair strength.
It is useful in relieving headache, sinusitis, rhinitis.
It is used for all diseases pertaining to neck, eyes, ear and throat.
How to use Triphaladi Tailam
It is used as hair oil.
It is used for head massage.
It is used in Ayurvedic treatment like Shirodhara, Shirovasti etc.