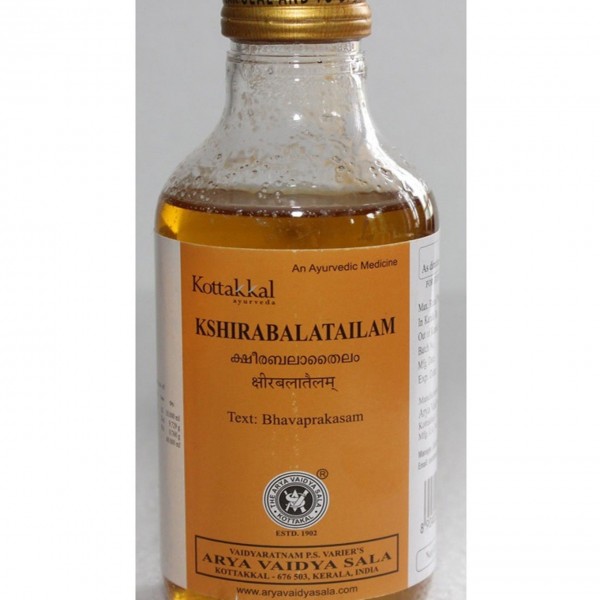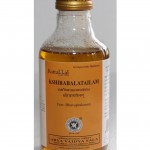 Ayurvedic Kshirabalatailam Tailam
---
$9.45
Product Description
Pack Size : 200 ml
Description:
Kshirabalatailam is an Ayurvedic oil used in the treatment of  Vata disorders causing neuro muscular pains, sciatica, spondylosis, paralysis etc. This oil is also available in capsule form.
This is a head and neck oil that is anti-inflammatory,analgesic and anti-rheumatic.sheerabala oil effectively help in conditions like Arthritis, Gout, Sciatica, Stiffness of joints, Nervous debility, Neuralgia, body pain etc. Bala is known to increase quality and quantity of semen and has aphrodisiac properties. Hence massaging this oil helps in low libido, erectile dysfunction and premature ejaculation.It is good for Vata and Pitta imbalance because it is cooling and good for the nerves. It is also good for post-natal care (massage oil for babies),insomnia,arthritis and gynecological diseases.
Ingredients of Ksheerabala thailam:
ksheerabala thailam contains the herb Bala (Sida cordifolia), Milk and pure sesame oil.
How to use Kshirabalatailam 
It is used for massage, Ayurvedic enema therapy, Dhara, Seka etc.
It is also used for mouth gargling, oil pulling, nasya therapy (nasal instillation of drops) etc.
Dosage: 
For oral intake, if capsule, the usual dose is 2 capsule 2 times a day before food. It is usually administered along with hot water, which helps in quick absorption.
If it is plain oil  and indicated for oral intake, it is given in a dose of 5 – 10 drops once or twice a day, usually before food. Patient is asked to drink a glass of warm water following the oil.