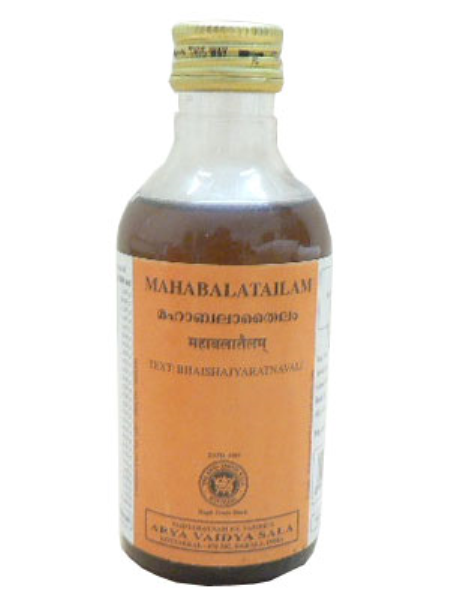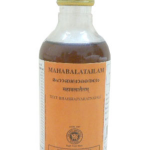 Ayurvedic Mahabala Tailam
---
$11.99
Product Description
Pack Size : 200 ml
Description:  Mahabala tailam is a herbal massage oil used both for oral intake and external application. It is used for the treatment of male and female infertility, gout, arthritis, etc.
Uses of Mahabala Tailam:
It is used in post-partum care of the mother. Oral consumption helps to improve muscle and nerve strengh of the mother.
It is used for the treatment of female infertility.
It improves sperm count and useful in oligospermia.
Useful in premature ejaculation, Dhat syndrome
Also good in hiccup, cough, injury to vital parts (Marma Abhighata)
Useful in Gulma, asthma and hydrocele, Vata disorders, adhimantha, rheumatic pain and in gout.
Ingredients of Mahabala Tailam:
Tila taila – sesame oil  (Sesame oil)
Dashamoola  – group of 10 herbs
Balamula (Sida cordifolia)
Yava (Hordeum vulgare)
Kulattha (Vigna unguiculata) – horse gram
Kola (Cola acuminata)
Madhura gana dravyas – group of sweet tasting herbs
Saindhava lavana – rock salt
Sarjarasa (Salmalia malabarica)
Sarala (Pinus roxburghii)
Devadaru (Cedrus deodara)
Manjista (Rubia cordifolia)
Chandana (Santalum album)
Kusta (Saussurea lappa)
Ela (Elettaria cardamomum)
Kalanusari
Mamsi (Nardostachys jatamansi)
Saileya (Parmelia perlata)
Patra – Cinnamomum tamala
Tagara (Veleriana wallichi)
Vacha (Acorus calamus)
Sariva (Hemidesmus indicus)
Shatavari (Asperagus racemosus)
Ashwagandha (Withania somnifera)
Shatapushpa (Anethum sowa)
Punarnava (Boerhaavia diffusa)
Paya (Milk)
Dose of Mahabala Thailam:
Externally- used for application over the affected area.
Internally- 5-10 ml once or twice daily or 15-120 drops as additive/adjuvant or as directed by physician.
For Nasya treatment – it is useful in treating headache, migraine hair fall, neuralgia etc