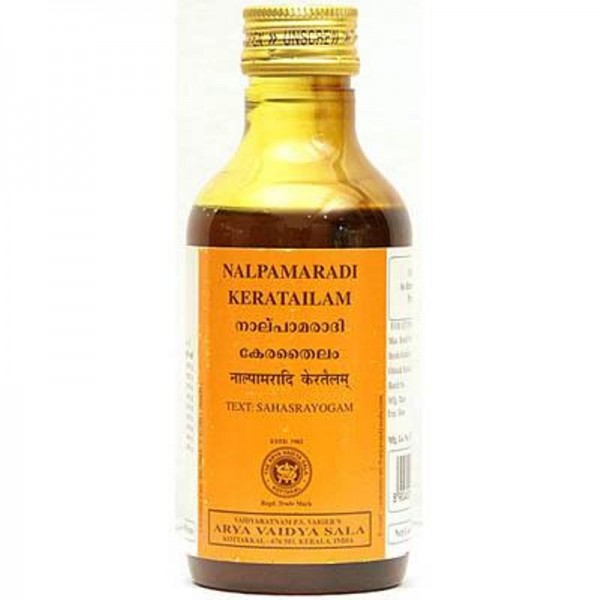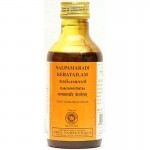 Ayurvedic Nalpamaradi Kera Tailam
---
$11.99
Product Description
Pack Size : 200 ml
Description:
Enhances complexion, effective for sunburn, softens the skin, controls itching of the skin, a powerful cleaner and deodorizer. Prepared with coconut oil.
Each 10ml prepared out of:
Keratailam – 10.000 ml.
Paimanjal – 20.000g
Parpata – 20.000g
Nalpamaram (each) – 0.048g
Triphala (each) – 0.048g
Chandana – 0.048g
Sevya – 0.048g
Kushtam – 0.048g
Chovvalli – 0.048g
Choraka – 0.048g
How to use:
 Slightly warm the oil and apply luxuriously over the skin. Leave it there for 40 to 50 minutes. Then rinse with mild herbal soap.
This oil is also used as baby massage oil, to relieve any minor skin conditions and to improve fairness and skin complexion, since it contains Turmeric and sandalwood.
Ingredients:
Nalpamara – 15 grams of each of group of four types of tree barks – viz
Vata – Ficus benghalensis
Ashwattha – Ficus religiosa
Plaksha – Ficus lacor
Udumbara – Ficus glomerata
Triphala – Haritaki – Terminalia chebula, Vibhitaki – Terminalia bellirica, Amla – Emblica officinalis
Chandana – Sandalwood – Santalum album
Sevya – Vetiveria zizanioides
Kushta – Saussurea lappa
Manjishta – Rubia cordifolia
Chora – Angelica glauca
Coconut Oil – Kera tailam
Paimanjal – wet turmeric – Curcuma longa
Parpata – Fumaria indica