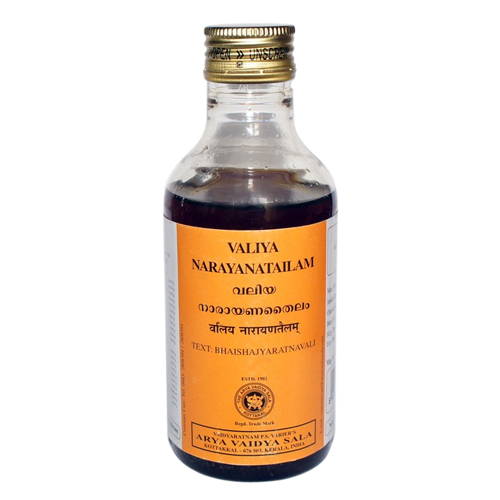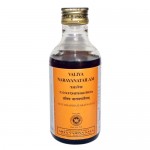 Ayurvedic Valiya Narayana Tailam
---
$11.99
Product Description
Pack Size : 200ml
Description :
Narayan Oil is an Ayurvedic oil (Thailam). It is used in the treatment of many neuro- muscular and skeleto-muscular conditions, such as arthritis, neuralgia etc. It is one of the most widely used Ayurvedic oils. It is used both for oral administration and external application.
Valiya Narayana Oil Uses:
It is useful to relieve aches and pains due to travelling.
It is useful to improve bone strength in osteoporosis and arthritis.
It is useful in joint disorders like Osteo arthritis, Rheumatoid arthritis, lumbar and cervical spondylosis, gout.
Orally, it is used in treatment of oligospermia, male and female infertility treatment.
It is used for nasal instillation to improve strength of sense organs and to treat hearing and vision problems.
It is helpful in locked jaw and toothache.
It helps to relieve testicular pain, on massage.
How to use Valiya Narayana Thailam:
It is used for massage.
It is used in Ayurvedic treatment like Dhara, Basti treatment etc.
Dose for oral intake is – 5 – 20 drops once or twice a day, before food, with warm water or warm milk.
This oil is used for massage for ladies, after delivery, to improve body strength.
It is also used as massage oil for babies.
Narayana Tel Ingredients:
480 grams of each of:
Bilva – Aegle marmelos
Agnimantha – Premna mucronata
Shyonaka – Oroxylum indicum
Patala – Stereospermum suaveolens
Paribhadra – Erythrina variegata
Prasarini – Paedaria foetida
Brihati – Solanum indicum
Kantakari – Solanum xanthocarpum
Ashwagandha – Withania somnifera
Bala – Sida cordifolia
Atibala – Abutilon indicum
Shvadamshtra – Tribulus terrestris
Punarnava – Boerhaavia diffusa
Water for decoction – 49.152 liters, boiled and reduced to 12.288 liters
Taila – Sesame oil – Sesamum indicum – 3.072 liters