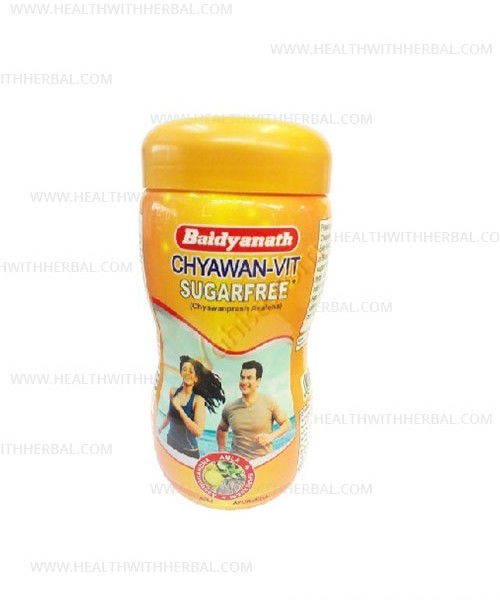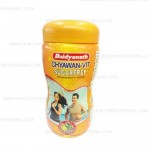 Baidyanath Chyawan – Vit Sugar Free (Chyawanprash Avaleha)
---
$22.95 – $38.95
Product Description
Baidyanath Chyawan – Vit Sugar Free (Chyawanprash Avaleha)
Presenting specially formulated Chwaywan -Vit free from any added sugar. Every teaspoon contains natural goodness of Shatavari & Ashwagandha. Amla a rich source of Vitamin C, minerals and potent herbal nutrients essential to boost body's immunity and metabolic activity. It stimulates the Circulatory, Nervous and Respiratory systems. Excellent in debility, protects from nervous exhaustion. Helps in improving resistance to minor infections, Cough-Cold and boosts overall immunity and wellbeing.
Nutrition Chart From Natural Sources
Vitamin C
Yes
Iron
Yes
Potassium
Yes
Sodium
Yes
Manganese
Yes
Niacinamide (B-Complex Group)
Yes
Protein
Yes
Zinc
Yes
Composition (Quantity in each 100g ) :
Amla Pulp – 75g
Till Tel – 5g

Bilva

Agnimantha – 0.4g
Syonaka – 0.4g
Kasmari – 0.4g
Patala – 0.4g
Bala – 0.4g
Salaparni – 0.4g
Prsniparni – 0.4g
Masaparni – 0.4g
Gokshura – 0.4g
Brhati – 0.4g
Kantkari – 0.4g
Ashwagandha – 0.4g
Shatavari – 0.4g
Srngi – 0.4g
Tamalaki (Bhumyamalki) – 0.4g
Jivanti -0.4g
Agaru – 0.4g
Abhaya Haritaki – 0.4g
Amrta (Guduchi) – 0.4g
Varahikand – 0.4g
Vidarikand – 0.4g
Nagarmotha – 0.4g
Punarnava – 0.4g
Utpala (Neelkamal) – 0.4g
Vrdamula – 0.4g
Kaunch Beej – 0.4g
Mulethi – 0.5g
Akarkara -100mg
Ela(Surksmaila) -225mg
Pipal – 500mg
Kesar -10mg
Lavang – 200mg
Dalchini – 500mg
Mulethi Powder – 500mg
Tejpatra – 135mg
Javitri – 100mg
Vanslochan – 300mg.
Dosage:
2 teaspoonful morning and evening with milk or as directed by the physician.
Precaution :
Not recommended for children and phenyltelonerics.
Additional Information
| | |
| --- | --- |
| Quantity | 1Kg (2 x 500g), 500g |