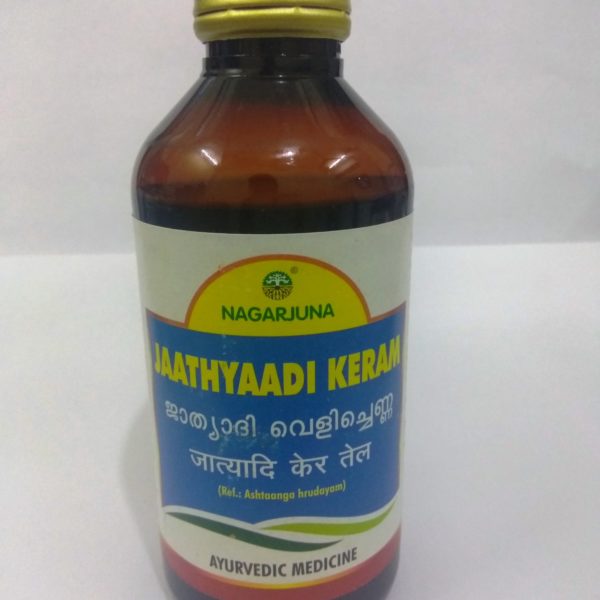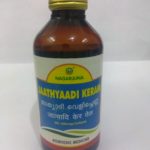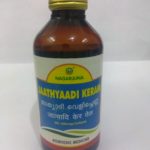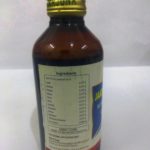 Nagarjuna Herbal Jaathyaadi Keram/Thailam
---
$9.45
Product Description
Pack Size:-200ml
Description:  
It heals wounds quickly. It is used to apply externally over non healing wounds, sinus, blisters, abscess, bite wounds.
It is also useful in burns.
It is applied over infected skin diseases such as Hand Foot and Mouth Disease, eczema, syphilis etc.
Effect on Dosha – Balances Pitta and Kapha
How to use
It is used to apply over the non healing wounds.
Usually a cotton swab, dipped in the oil is placed over the wound or blisters for about half an hour, twice or thrice a day.
Dhara can also be done over the wounds.
Ingredients:
10.55 grams of each of
Jati – Myristica fragrans
Nimba – Neem – Azadirachta indica
Patola – Stereospermum suaveolens
Naktamala – leaves of Pongamia pinnata
Sikta – Honey bee wax
Madhuka – Licorice – Glycyrrhiza glabra
Kushta – Saussurea lappa
Haridra – Turmeric – Curcuma longa
Daruharidra – Berberis aristata
Manjishta – Rubia cordifolia
Katurohini – Picrorhiza kurroa
Padmaka – Prunus puddum
Lodhra – Symplocos racemosa
Abhaya – Terminalia chebula
Nilotpala – Nymphaea stellata
Tutthaka – Copper sulphate
Sariva – Hemidesmus indicus
Naktamala beeja – Seeds of Pongamia pinnata
Taila – Sesame oil – 768 ml
Water – 3.072 liters