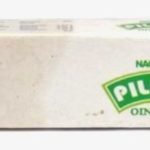 Nagarjuna Pilorid Ointment
---
$6.30
Product Description
Nagarjuna Pilorid Ointment
Pack Size:- 20g
Description:
Pilorid Ointment is a reliable topical solution for piles/hemorrhoids.It is a proprietary Ayurvedic Product manufactured by Nagarjuna Ayurveda Pharmaceuticals, Kerala.
Pilorid assists in wound healing
Benefits of Pilorid Ointment:
It has quick haemostatic and astringent action.
Efficient anti-microbial and anti-pruritic agent
Powerful anti-inflammatory and analgesic properties
Indication of Pilorid Ointment:
Piles of all types
Composition of Pilorid Ointment:
Each 20 g is prepared out of-
Shatavari (Asperagus racemosus)- 1.28 g
Kumari (Aloe vera)- 16.00 g
Brahmi (Bacopa monnieri)- 16.00 g
Sphatika (Alum)- 2.48 g
Chiruvilwam (Holoptelea integrifolia)
Shuddha manahshila (Purified realgar)
Shuddha gandhaka (Purified sulphur)
Base- coconut oil & bees wax- q.s.
Direction for use of Pilorid Ointment:
Topical application- twice daily