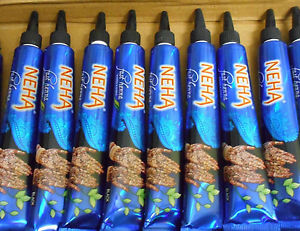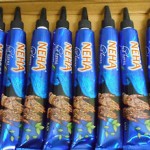 Neha Natural Henna Black Tubes (Pack of 12)
---
$12.99
Product Description
                                                                               Neha Natural Henna Tubes
Pack Size :  12 tubes 30 grsms each
100% natural neha henna mehndi cone temporary tattoo outliner body art no chemicals no ppd. Natural herbal neha henna cones for perfect temporary tattoos each cone hold 30 grams of natural herbal henna. Mehandi is used for temporary skin decoration on various special occasions like weddings, parties, ceremonies etc.
It is perfect 100% natural product which works like jewel on the body. Every woman loves to adorn henna on her hands and feet. People prefer to buy ready to use mehandi cones because it makes painting designs easy. Mehandi cones are the most popular way of applying henna as they are convenient and easy to use. The mehandi cones can be handled easily and it is less messy. It also becomes easy to store mehandi in a cone easily. Henna oil is a unique high quality essential oils and helps in attaining the deep and attractive shades of natural henna colour.
Use it : on hands, arms, legs before and after applying natural henna to darken the effect of henna. Apply oil after henna gets totally dried and then peel off.
How to apply – clean skin surface before applying- open cap & press some diluted paste out- for best result apply mehendi oil on skin surface 1st wipe of any mistake using wet cloth/cotton bud- leave it to dry for 60 – 90 minutes. Scrap of dried paste, do not wash it off using water, avoid contact with water as much as possible.
Precautions : cone paste packet should be kept away from direct sunlight, preferably in a dark place. This preparation should not be used for dyeing eyelashes or eyebrows as it can cause inflammation.