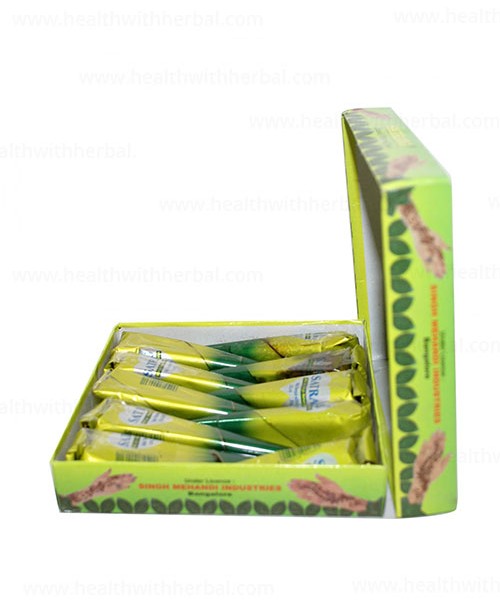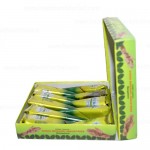 Satrang Henna Mehndi Paste / Cone
---
$12.99 – $21.99
Product Description
Henna Mehndi Paste Cone   (12 Cones 30gm each)
Make Temporary Tattoo & Beautiful Body Art ..
=> Natural Henna Paste Cone
=> Ready to Use Cone Packing
=> 30 Gm Each Cone
=> Output Color- Dark Brown
=> Stability More than 15 days….
WHY SATRANG MEHNDI CONES:
We are a prosperous enterprise instrumental in manufacturing and supplying a diverse array of Rachni Mehandi. Due to our progressive collection of products of finest quality, we have regularly done extremely well and scaled on the path of success by catering to the requirements of our customers. All the henna products for hand are manufactured by experts by using top-notch quality of raw material.
Satrang Rachni Mehandi offered by us is made using finely chosen Henna to which natural and pure ingredients are being added. This product acts as a form of natural hand tattoo providing a deep color and elegant appearance to your hands and other body parts without causing any pain.
HOW TO USE : SATRANG MEHNDI CONES :
CREATE YOUR DESIGN OR USE READY MADE DESIGN STENCILS
You can create your own original design or look at books or online templates for inspiration.
=> The hands and feet will stain darker than other parts of the body because the skin on the extremities is thicker.
=> The neck and face do not tend to stain well because the skin there is naturally thin and oily.
Hold the cone with the rubber band end nestled between your thumb, palm and first finger. Slowly squeeze with the palm of your hand and fingers to create an even line of paste. Try not to hold the cone or squeeze from the tip end, this will diminish your control and paste may explode out the back.
For extra control rest the weight of your hand on your little finger to help maintain a steady line.  You can support and guide the cone while you draw with your right hand by using your left pointer finger to direct and support the cone.
As the cone becomes empty, hold the 'tail' in your left hand and roll the rubber band down toward the tip with your right hand. This helps keep the pressure in the cone full and makes an easier and more consistent flow of henna paste.
Additional Information
| | |
| --- | --- |
| Quantity | 1Box*12cone, 2Box*12cone |